Esthetic Contouring Instruments
Esthetic Contouring Instruments are specifically designed to properly manipulate and contour composite material, to create highly detailed anterior composite restorations.
Description
Gold Grip: features convex paddle to spread composite across the facial plane for diastemas, Class IV and V restorations. Long flat, thin and flexible blade makes interproximal composite placement a breeze.
Blue Grip: bladed end allows trimming of excess composite and to cut grooves into the material to create the illusion of enamel cracks. With its opposing blade, ripples can be created prior to cutting for better light reflection.
Clinical Technique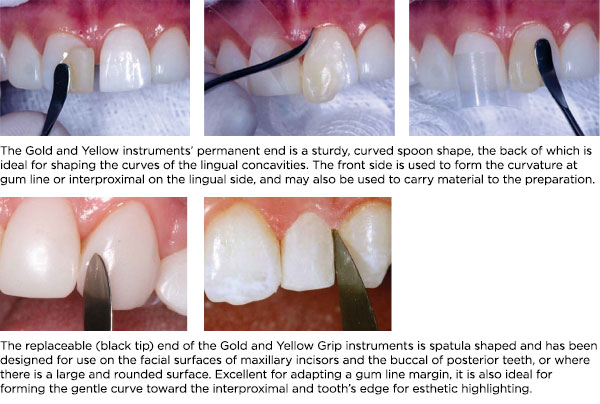 Resources
Click here to view the Esthetic Contouring Instruments Product Sell Sheet.
Product Configurations
Gold Grip instrument

 

Blue Grip instrument