Can't make a LIVE date?
Register for a Hands-On Demand™ course!
24/7 access to world-class continuing education courses which include a comprehensive hands-on technique kit and the opportunity to learn at your own pace. Once you've registered and received your Technique Kit, you can access your course on your own schedule and you can pause and rewatch the course at any time. All On Demand courses include 30-day access with unlimited viewing.

Register + Receive Kit
Registration includes a technique kit containing all the materials needed to complete your training. 

Watch + Learn
Hands-on training in the comfort of your operatory. No office downtime or travel required.

Earn CE Credits
Hands-OnLine LIVE™ and Hands-On Demand™ courses offer 2 hours
of CE Credits.
Gain 30-day access to your course with unlimited viewing during that time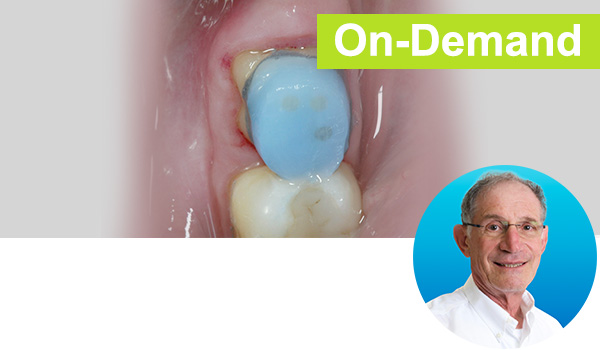 Post-Endodontic Restorations: Efficient Void-Free Post & Cores
1.5 HOURS | 1.5 CE CREDITS
Instructor: Manfred Friedman, BDS, BChD
One of the pillars of the long-term success of endodontically treated teeth, is the coronal restoration placed. Long-term re-infection is almost always due to coronal leakage and inadequate restoration. This course will walk participants through the restorative principles that will ensure long-term success. An algorithm will be presented to identify when a fibre post and core should be placed in the endodontically treated tooth. Having completed the hands-on component the participant will experience a very efficient and cost-effective technique for providing a void-free post and core.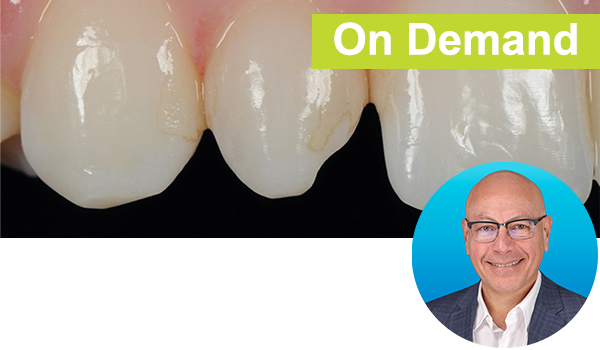 Esthetic Class lll & Peg Lateral Direct Restoration
2 HOURS | 2 CE CREDITS
Instructor: Marcos Vargas, BDB, DDS, MS
This Hands-On Demand exercise will teach you to build up peg laterals and large Class III restorations. Direct resin composites are a very important part of any dental practice nowadays. These restorations provide patients with minimally invasive restorations that preserve tooth structure while providing esthetics, longevity and function. The participants will be guided step-by-step through shade selection, tooth preparation, bonding, matrix adaptation, creating proximal contacts, layering, contouring and polishing to conservatively, predictably and successfully build up peg laterals and large Class III preparations utilizing direct resin composite..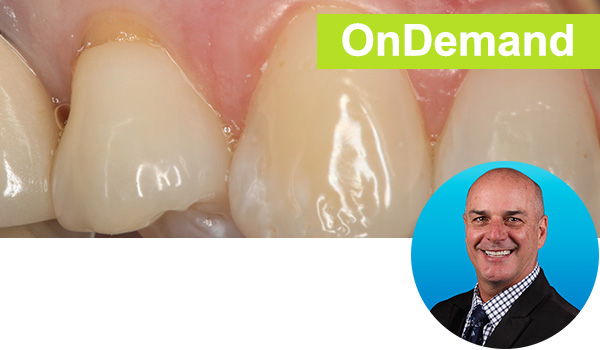 Beautiful Class V Restorations: Predictable and Simplified
2 HOURS | 2 CE CREDITS
Instructor: Marc Geissberger, DDS, MA
As individuals retain teeth longer than ever before, Class V lesions have become more prevalent. There are multiple types of lesions caused by erosion, abfraction, toothbrush abrasion, or a combination of these. This two-hour hands-on Live interactive course will introduce participants to techniques and materials that will streamline the Class V restoration. Particular attention will be paid to preparation design, bonding protocols, placement techniques and polishing. This will be accomplished using both lecture format and live demonstration.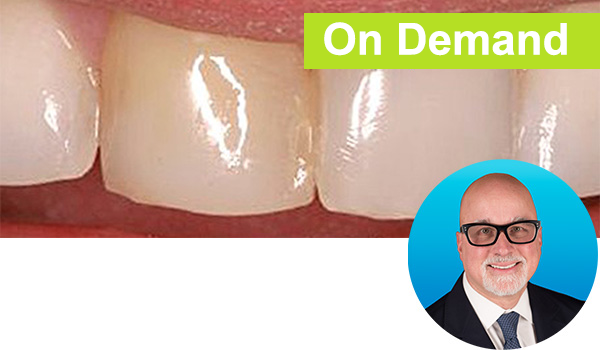 Restoring the Discolored Central Incisor
2 HOURS | 2 CE CREDITS
Instructor: Bob Margeas, DDS
Treating a single central is one of the most difficult procedures that a dentist has to do. Even more difficult is the discoloured central due to endodontics, trauma, or tetracycline staining. This hands-on course will teach you how to use opaquers to raise the value of the tooth, without creating too bright of a tooth. You will also learn the use of tints to create incisal translucency. These techniques can be incorporated immediately into your practice for profitability.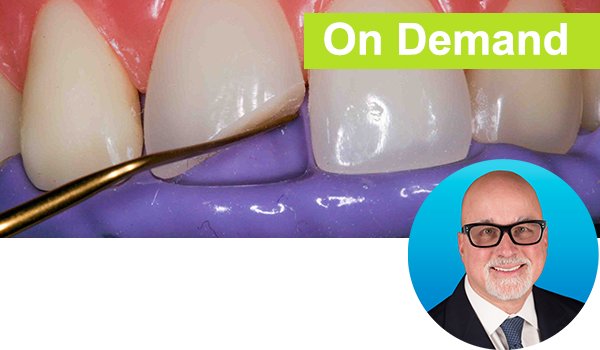 Mastering the Class IV Restoration
2 HOURS | 2 CE CREDITS
Instructor: Bob Margeas, DDS
The step-by-step Hands-On Demand course focusing on Dr. Margeas's layering technique and rationale for the selection of opacities and translucent composite. Learn efficient polishing and surface texturizing techniques to ensure a natural esthetic result.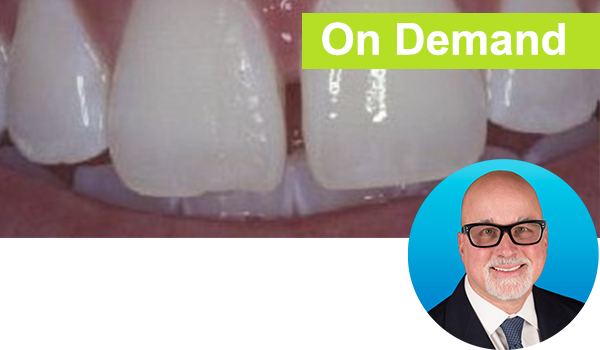 Freehand Diastema Closure
2 HOURS | 2 CE CREDITS
Instructor: Bob Margeas, DDS
The Hands-On Demand, step-by-step course focuses on Dr. Margeas's simplified technique that quickly establishes ideal width, proximal contact and contour without removing any tooth structure. Learn polishing and surface texturing that will produce natural-looking long term restorations.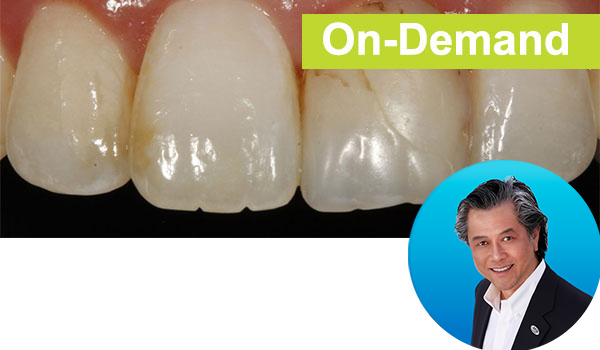 Simple Concepts to Shape & Polish Anterior Composites to Rival Porcelain
2 HOURS | 2 CE CREDITS
Instructor: David Chan, DMD, AAACD
In this Hands-On Demand course, the participants will learn and practice hands-on how simple it is to recreate natural tooth morphology and finish anterior composites to conservatively and esthetically restore natural teeth.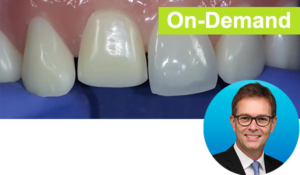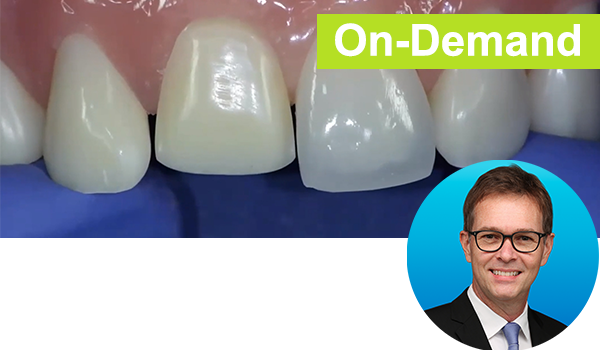 The Direct-Indirect Composite Resin Veneer
2 HOURS | 2 CE CREDITS 
 Instructor: Newton Fahl, DDS, MS
This Hands-On Demand™ course will introduce and discuss the use of composite resins for addressing anterior esthetic challenges through a direct-indirect approach, in which restorations are directly sculpted and indirectly bonded. 
On Demand Demonstration Webinars
Gain 30-day access to your course with unlimited viewing during that time
* Course does not require / include technique kit.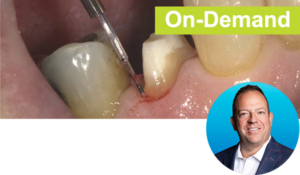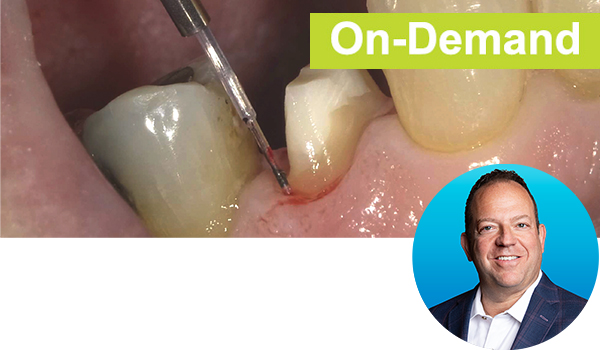 On-Demand Demonstration Webinar 
Teach Me to Be a Laser Dentist: A Crash Course on Diode Lasers and Restorative Dentistry
1 HOUR | 1 CE CREDIT 
 Instructor: Dr. Ron Kaminer
In this On Demand Demonstration Webinar, join us as we simplify laser science, and show you a variety of situations where using a diode laser helps improve the final outcome.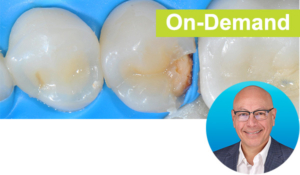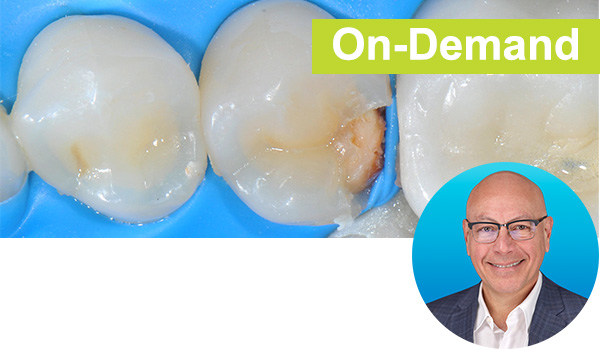 On-Demand Demonstration Webinar 
Maximizing Clinical Efficiency and Results with Bulk Fill Composites 
1 HOUR | 1 CE CREDIT 
 Instructor: Dr. Marcos Vargas
This On Demand Demonstration Webinar will guide you, step-by-step, through the restoration of adjacent Class II restorations, providing the knowledge to select the proper matrix, wedge and ring to use.