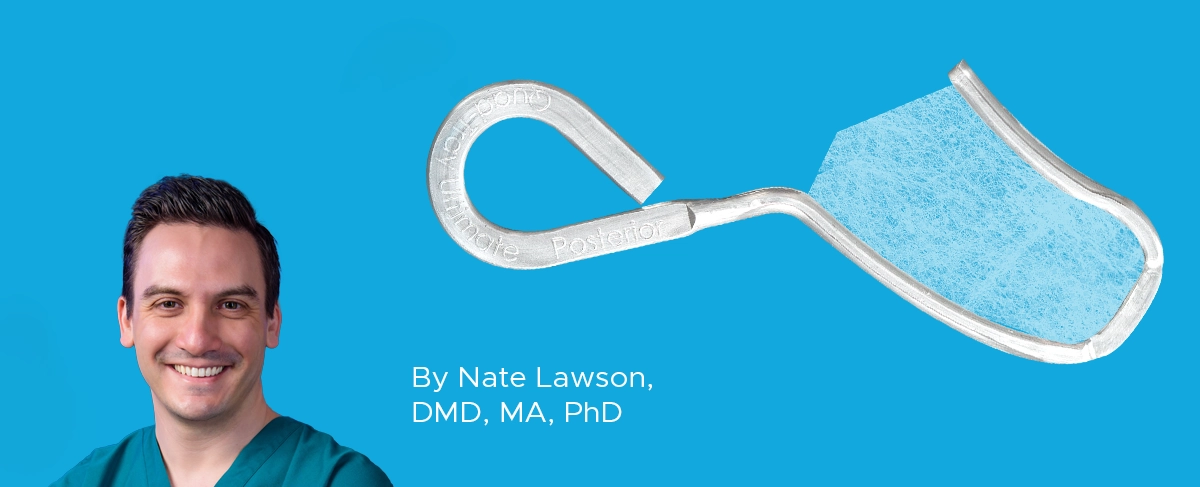 Ask the Expert: An Interview with Nate Lawson, DMD, MA, PhD
on Dual-Arch Impression Trays
Question
How commonly used are dual-arch trays and what are their advantages?
1 answer
Answer
A Practice Based Research Network study reported that dual-arch trays were the most used tray for single unit crowns as they were used for 62% of the crowns in the study, followed by quadrant trays (17%), and then complete-arch trays (5%).1  A dual-arch tray allows the impression to be taken with the patient's mouth closed which is more comfortable for the patient and more time efficient for the clinical staff who would otherwise need to stabilize the impression during the setting time. The use of a dual-arch tray saves time as the impression of the opposing teeth and occlusal relation are all captured at the same time as the impression of the prepared teeth. Additionally, dual-arch impressions often require less impression material.A clinical trial compared the use of a dual-arch and complete arch impressions for a single fixed unit. The dual-arch technique was faster (222 seconds vs 445 seconds), more comfortable (preferred by 80% of the patients), and used less material (20g vs 39g). When the restorations from both impressions were compared, there was no difference in accuracy of fit, occlusion, or time taken for try-in of the restorations.2  In another study, comparisons were made between interocclusal records examined intraorally and those examined on mounted casts. The study reported that mounted casts produced from a dual-arch tray produced more accurate interocclusal records than those recorded from full arch impressions. The dual-arch tray captured the relationship of the arches in maximum intercuspation without the errors introduced by the external articulation of opposing casts.3
Question
What are the requirements of using dual-arch tray?
1 answer
Answer
To utilize a dual-arch tray, the impression should capture the canine of the same side as the prepared teeth to factor canine guidance into the occlusal design of the restorations. Additionally, teeth mesial and distal to the prepared tooth should be present and captured as these teeth help to create occlusal stability between the maxillary and mandibular casts during mounting. Finally, an opposing tooth should be present as the occlusal stops from the adjacent teeth can help prevent flexure of the impression in a non-rigid dual-arch tray.
Surveys of dental laboratories reveal that many dual-arch impressions are in violation of these requirements. In a 2009 survey, only 55.7% of dual-arch impression recorded a single unit bounded by intact teeth that was opposing an intact tooth.4  In a 2013 survey, 26% of dual-arch impressions did not record an unprepared tooth anterior and posterior to the preparation, 14% did not register canine teeth, and 9% were not made in maximum intercuspation.5  A Practice Based Research Network study determined that there was no difference found in the clinical acceptability of crowns produced with dual-arch trays with or without either mesial or distal contacts missing; however, crowns fabricated under these conditions were less likely to achieve an excellent occlusion assessment (66.2% with both contacts and 57.8% without).1
Question
Are there any disadvantages of using a dual-arch tray?
1 answer
Answer
A potential disadvantage of dual-arch trays is that flexure of the tray may occur during closing from inadvertent contact with the alveolus. If the impression is taken while the tray is flexed and then the impression is unflexed when it is removed from the mouth, distortion may be produced in the impression.6  This distortion may effect the marginal, interproximal and occlusal fit of the crown as the distortion may alter the impression of the tooth as well as the mounting of the casts. Therefore, it is critical to utilize a rigid tray.
Question
What are the advantages of using the Quad-Tray Ultimate Posterior dual-arch tray?
1 answer
Answer
The Quad-Tray Ultimate Posterior trays (Clinician's Choice) are metal dual-arch trays. (FIG. 1) The metal frame provides rigidity. To demonstrate this rigidity, a Quad-Tray Ultimate Posterior metal dual-arch tray and a plastic dual-arch tray were supported from their handles in a universal testing machine and loaded at their distal ends. The maximum load that could be applied to the plastic tray was 1.7 N, whereas the maximum load that could be applied to the metal trays was 17 N. (FIG. 2)
When using a dual-arch tray it is important that the frame at the distal end of the tray is not flexed by the retromolar pad or the maxillary tuberosity. The dual-arch tray should be fitted into the patients mouth prior to injecting impression material in order to ensure that the patient can achieve maximum intercuspation. (FIG. 3) The Quad-Tray Ultimate Posterior is a new version of the metal dual-arch tray which has a thinner height of the frame at its distal end. (FIG. 4)
Question
Can you summarize your thoughts on dual-arch trays?
1 answer
Answer
In summary, dual-arch trays are more efficient, comfortable, cost-effective and possibly more accurate than full-arch trays. In order for dual-arch trays to allow the capture of an accurate impression and interocclusal record, they must maintain rigidity. Surveys of dental laboratories reveal that many clinicians violate clinical requirements that improve rigidity of their impression. Therefore, the use of a rigid dual-arch tray is critical. Metal trays, such as the Quad-Tray Ultimate Posterior, provide approximately 10x the rigidity of plastic dual-arch trays.
REFERENCES
Lawson NC, Litaker MS, Sowell E, Gordan VV, Mungia R, Ronzo KR, Lam BT, Gilbert GH, McCracken MS; National Dental PBRN Collaborative Group. Clinical acceptance of single-unit crowns and its association with impression and tissue displacement techniques: Findings from the National Dental Practice-Based Research Network. J Prosthet Dent. 2020 May;123(5):701-709. doi: 10.1016/j.prosdent.2019.05.016. Epub 2019 Oct 4. PMID: 31590974; PMCID: PMC7124984.

Lane DA, Randall RC, Lane NS, Wilson NH. A clinical trial to compare double-arch and complete-arch impression techniques in the provision of indirect restorations. J Prosthet Dent. 2003 Feb;89(2):141-5. doi: 10.1067/mpr.2003.25. PMID: 12616233.

Parker MH, Cameron SM, Hughbanks JC, Reid DE. Comparison of occlusal contacts in maximum intercuspation for two impression techniques. J Prosthet Dent. 1997 Sep;78(3):255-9. doi: 10.1016/s0022-3913(97)70023-4. PMID: 9297641.

Mitchell ST, Ramp MH, Ramp LC, Liu PR. A preliminary survey of impression trays used in the fabrication of fixed indirect restorations. J Prosthodont. 2009 Oct;18(7):582-8. doi: 10.1111/j.1532-849X.2009.00493.x. Epub 2009 Jun 11. PMID: 19523024.

Rau CT, Olafsson VG, Delgado AJ, Ritter AV, Donovan TE. The quality of fixed prosthodontic impressions: An assessment of crown and bridge impressions received at commercial laboratories. J Am Dent. Assoc. 2017 Sep;148(9):654-660. doi: 10.1016/j. adaj.2017.04.038. PMID: 28601188.

 Larson TD, Nielsen MA, Brackett WW. The accuracy of dual-arch impressions: a pilot study. J Prosthet Dent. 2002 Jun;87(6):625-7. doi: 10.1067/mpr.2002.125180. PMID: 12131884.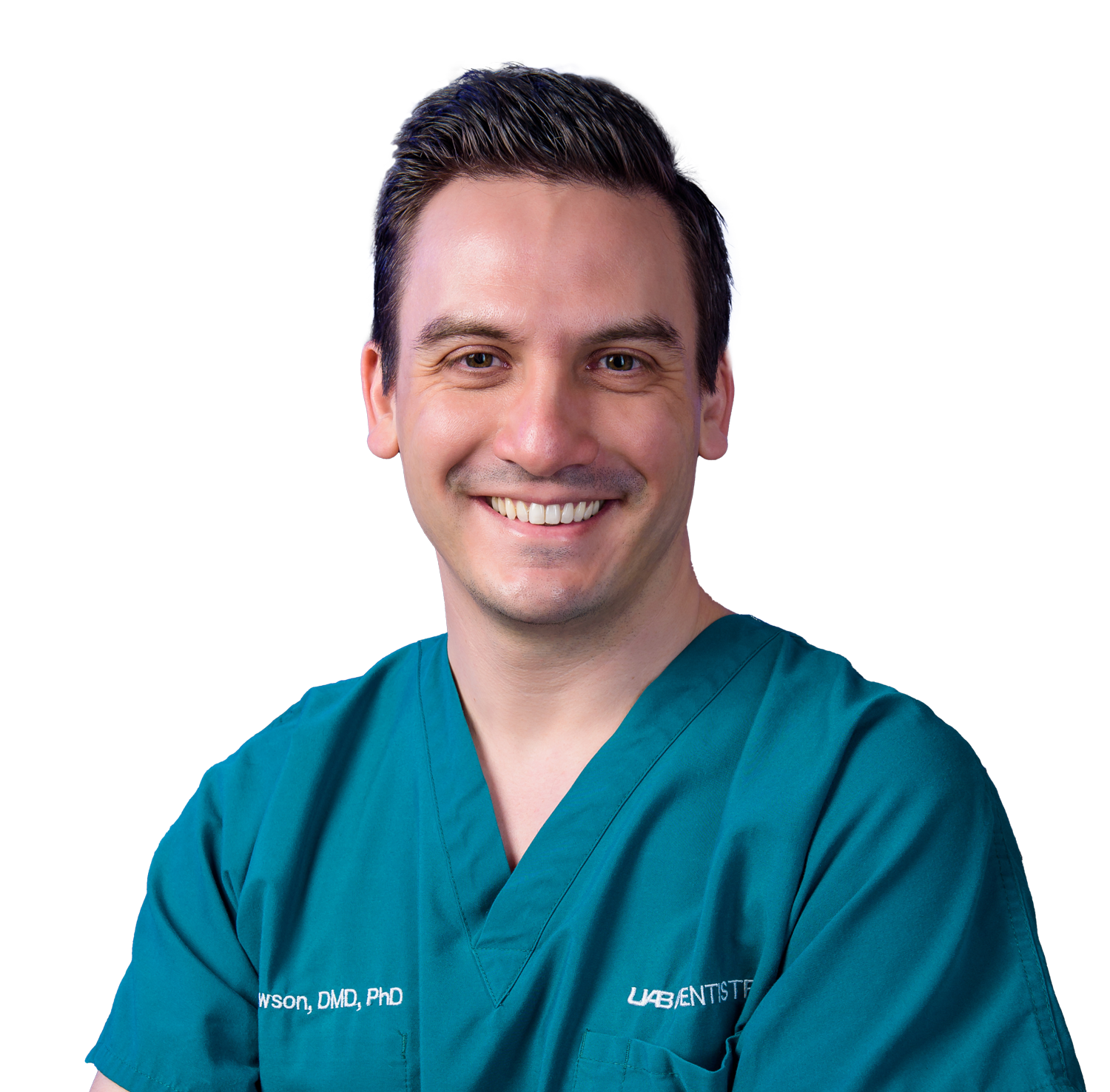 ABOUT THE AUTHOR
Nate Lawson DMD, MA, PhD is the Director of the Division of Biomaterials at the University
of Alabama at Birmingham School of Dentistry and the program director of the Biomaterials residency program. He graduated from UAB School of Dentistry in 2011 and obtained his PhD in Biomedical Engineering in 2012. His research interests are the mechanical, optical, and biologic properties of dental materials and clinical evaluation of new dental materials. He was the 2016 recipient of the Stanford New Investigator Award and the 2017 3M Innovative Research Fellowship both from the American Dental Association. He served on the American Dental Association Council of Scientific Affairs and is on the editorial board of The Journal of Adhesive Dentistry and Compendium. He has lectured nationally and internationally on the subject of dental materials. He also works as a general dentist in the UAB Faculty Practice.
Share This Article! Choose Your Platform

Products Mentioned in this article