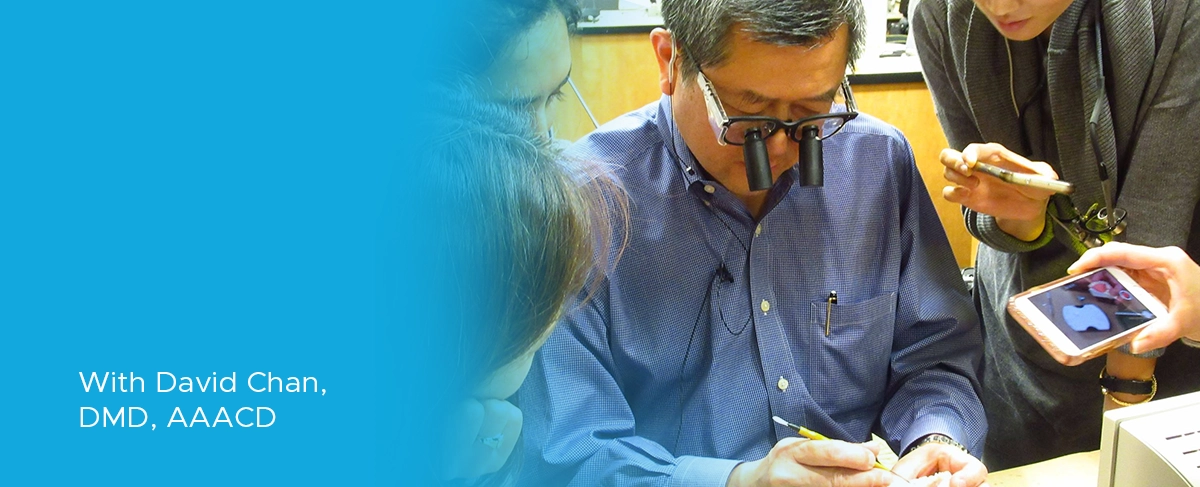 Celebrating 10 Years of Clinical Excellence with David Chan, DMD, AAACD
Dr. David Chan graduated from the Oregon Health Science University in 1989 and has dedicated his professional life to creating composite restorations as much as an artist as a clinician. As evidence of his commitment, Dr. Chan is a 20-year member, as well as past president of the AACD in addition to his role as a clinical instructor at the Kois Center in Seattle, and a frequent contributor to the Journal of Cosmetic Dentistry.
Dr. Chan's passion for dentistry extends well beyond his private practice in Ridgefield, Washington. When Dr. Chan is not practicing esthetic composite dentistry, he is lecturing and demonstrating advanced esthetic composite techniques both nationally and internationally as well as at his state-of-the art facility adjacent to his private practice.
Dr. Chan takes the practice of esthetic dentistry in an artistic direction. He believes that there are defined, yet simple principles that must be adhered to while restoring a tooth to its natural form with composite resin. When these principles are respected throughout the technique, a composite restoration can predictably rival that of any porcelain or ceramic restoration.
Celebrating it's 10th anniversary, the Center for Dental Artistry was founded by Dr. Chan for the purpose of teaching the necessary techniques that take the placement, contouring, and finishing of a composite restoration to that of an art form; one that is indistinguishable from the natural dentition. While each workshop highlights the importance of understanding the materials, instrumentation, and the individual anatomical characteristics of anterior teeth, there is a hands-on component that provides a tactile experience for each attendee. These newly acquired skills are developed and refined at each workshop; however, Dr. Chan stresses the importance of repeated disciplined practice as the clinician hones the various clinical applications once they have completed the workshops.

Dr. Chan offers three workshops during the year where small classes of clinicians can enjoy an interactive learning experience utilizing sophisticated audio-visual technology. Using quality materials, instrumentation, and equipment, participants take part in hands-on re-enforcement of the technique principles learned during the lecture component, acquiring esthetic restorative skills and knowledge that will make an immediate impact on their clinical results.
Workshop I, "Achieve a Higher Level of Artistry with Anterior Composites," covers the fundamentals of composites systems with respect to physical and optical properties, strengths, translucencies, and predictable shade selections. The Color Theory and the subtle nuances in tooth morphology and polishing techniques that take an anterior restoration to the next esthetic level are thoroughly discussed and applied to guide the clinician to the desired clinical results.
Workshop II is "The Master's Course for Composite Art and Natural Esthetics". This 3-day workshop focuses on more complex anterior cases where the candidates must create six direct composite veneers. Often participants are pursuing accreditation where the understanding of smile-design concepts and applying these through the skillful manipulation of composite, tints, and opaquers are integral to achieving outstanding clinical outcomes.
"Skulpting Skool 101: Simple, Sexy Posterior Composite Restorations" is the third workshop that combines the knowledge of material selection and efficient technique for placing posterior composites that satisfy the ever-growing demand for esthetic restorations regardless of their location in the mouth while extending the longevity of the restoration itself. With the majority of restorations being placed in the posterior, adopting clinically proven placement techniques that combine strength, beauty, and clinical efficiency makes complete sense to both the esthetic demand and the bottom line.
"What an amazing 3 days. This course was jam packed with practice pearls that can be implemented right away, and it is a must if you're looking to elevate your composite game. Dr. Chan's passion for composite artistry is contagious! I can't wait for his next course!" – Daniela, DMD, Los Angeles, CA
Dr. David Chan's perspective into composite dentistry is one of an artist's. This results in the exquisite reproduction of the natural dentition using composite alone. At the Center for Dental Artistry, Dr. Chan shares his knowledge, techniques, and his many pearls that will enable the participant to look at dentistry artistically as well. Acquiring the knowledge of manipulating the composite and taking advantage of its optical and physical properties, learning how to establish subtle tooth anatomy, and finishing and polishing in a simple, efficient manner is only the beginning. It is through diligent application of the principles of these techniques, both clinically and repetitive practicing on dento-form teeth, that will lead to predictable life-like composite restorations. Literally mirror images of the natural dentition.
Visit www.centerfordentalartistry.net to learn more and register for an upcoming workshop.
Share This Article! Choose Your Platform

Admin
5 Restorative Clinicians' Take On Evanesce Nano-Enhanced Universal Restorative.
Admin
By David Chan, DMD, AAACD

The ability to rehabilitate or enhance a smile using direct composite restorations in the esthetic zone can be considered the ultimate challenge for the cosmetic dentist.
Admin
By David Chan, DMD, AAACD

With contemporary direct composite systems, the clinician can now truly be a dental artist by conservatively and esthetically creating restorations that are so life-like that they virtually emulate the beauty of natural tooth structure.